Oak beams cut to any size
M. J. Elliott specialises in oak beams, with numerous sizes in stock, and the ability to produce to your requirements. Whether you need a couple of beams or a lorry load of them, we are able to supply at extremely competitive prices. We offer a number of different grades of beam which are suitable for different purposes and have different appearances. At M.J. Elliott's we deal in a wide range of species including Ash, Beech, Chestnut, Douglas Fir, Elm, Idigbo and Iroko.
These are by far the most popular type of beam, freshly cut and graded depending on their knot content and appearance.
​
QPA Fresh Sawn Beams – This is the highest quality beam we offer. It's used extensively in construction and has a clean look with fewer knots.
​
QP1 Fresh Sawn Beams – This is the second highest quality of beam we provide. While it has more knots, it is still sound for use in construction. The difference between QP1 and QPA is mostly in appearance rather than strength.

Fresh sawn beams, having been recently cut, have a bright, fresh look to them. Because of the relatively high moisture content in green oak, shrinkage of 2 or 3% will occur in the cross-section as it dries out, but not in the length. This is often used to the advantage of craftsmen to ensure joints naturally tighten up and increase structure strength. Fresh sawn beams can have stains applied to them to bring out their colour and grain patterns, and if left naturally will slowly turn the traditional silver-grey colour over time. We have a large stock of green oak beams and can cut them down to size for.
As a sawmill, our bread and butter work is cutting oak down to specific sizes for our customers. We buy oak in bulk and pass the savings onto you. Cut to size oak is sawn to your sizes leaving a rough finish, making it perfect for projects where you will finish the oak yourself or where surface texture isn't as important.

Our cut to size oak is kiln dried and is therefore available in set thicknesses (26mm, 32mm, 38mm, 50mm, 65mm, 80mm and 100mm). 100mm is the maximum thickness available in kiln dried oak (as oak will not dry all the way through in thicker sections).
​
Whether you need just a few pieces or have a large project, we cater to all different types of timber user and can talk to you about the types of oak that would be best for your particular project. Other popular species include cherry, sapele, idigbo, lime, meranti, Douglas fir. Get in touch to talk about these other species.

If you need a planed, smooth finish, take a look at our planed all round products.
If you need a smooth, finished surface to your oak, we can provide it planed all round on all four sides to your exact measurements. The ends are left un-planed and pieces are provided slightly over-length, giving you leeway to cut down to the exact length.

When planed, you can run your hand along the oak and feel how smooth it is. It's perfect for furniture or any project where you need a clean finish and don't have the tools or the time to finish it yourself.
PAR timber is also suitable for staining to further bring out the colour and texture of the oak.
Our prime quality oak is the smoothest, most knot-free oak we can get our hands on. Prime quality oak is perfect for the likes of furniture and staircases where the absolute best quality of oak is required.
Let us take the hassle out of making your oak trusses. They're built exactly to your drawings out of fine quality European Oak and provided in kit form for you to easily assemble on site. All of the oak is planed smooth and fits perfectly together with hand-crafted, traditional mortice and tenon joints held in place with oak pegs.

We can produce standard king and queen post trusses, raised tie trusses, mono trusses and trusses with stainless steel parts as well as completely custom designs. All we need from you in order to make them are designs signed off by your structural engineer.

We understand that many craftsmen find making trusses a chore due to the space it takes to make them, not to mention the time you have to spend that takes you off other jobs. Also, not everyone has the equipment necessary to plane the whole beams, which really gives a professional finish to the trusses.

You also won't be disappointed with the price. Email us your truss designs and we'll price them up for you.
Fresh sawn oak feather edge cladding is an extremely popular and durable way of covering buildings. The feather edge, or triangular wedge shape overlaps to stop water getting in and gives a traditional look to any building.
Feather edge cladding can be treated with UV protective oil to stave off the natural colour change but it can be left untreated and will eventually turn the classic silver grey, depending on amount of direct sunlight received.

The most popular feather edge board widths are 150 and 200mm, so with a recommended 25mm overlap, you get 125mm and 175mm face cover respectively. The standard boards are 25mm thick one end and 9mm at the other.
How is feather edge cladding produced?
Our standard feather edge comes out of 38mm thick oak sawn diagonally to produce two wedges as shown below (click to enlarge). Allowing for a 4mm saw cut, the 38mm is cut so that one end is 25mm and the other is 9mm. It is normal for there to be a variance of the thicknesses of these ends.
Cladding terms and explanations
When dealing with cladding, there are three main terms used to describe amounts. These are total area, face cover and running or linear metres.
If you have a wall to clad, take the height in meters and multiply it by the width in metres.
For example:
Height of wall = 3m
Width of wall = 4m
Total cover = 3 x 4 = 12m2 (square metres)
​
If you have any windows or doors on the face you want to clad, work out the area of these in the same way (window height x window width) and subtract it from your total cover.
Remember to order more than you actually need as you'll have some waste from cutting the boards to the exact size.

As well as fresh sawn feather edge cladding, we can offer numerous profiles of machined cladding in many different species (see our list of species here – please note some on this list are not suitable for cladding).

Common machined profiles are tongue and groove cladding (MJE1 – MJE5 profiles), Shiplap cladding (MJE6 and MJE7 profiles) and the Rainshield cladding (MJE8).

Click on the profile pictures for more information about their measurements. Some are more suitable for vertical cladding while others better suited to horizontal installation. We machine our cladding to order so get in touch for a competitive price.
Here is a diagram of how each profile can be fixed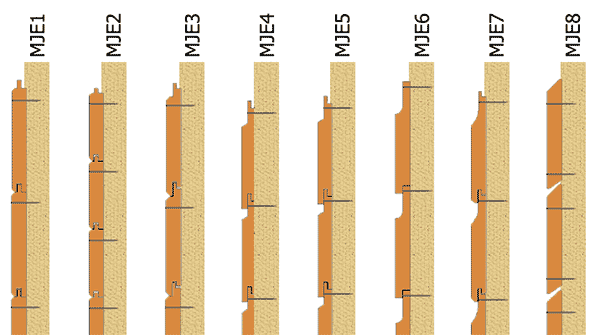 We stock many packs of kiln dried oak of various thicknesses. Arrange an appointment to come and look through our boards and select exactly what you need for your project.
​
Fresh sawn or wet oak has a density of 1,236kg / m3, whereas kiln dried oak takes the moisture content down to around 10-12% to a density of 720kg / m3. This shows just how much water comes out during the kilning process. Kiln dried to 10-12% makes it perfect for internal use. It will stay at this percentage in a central heated building.
When timber ever moves and warps it's usually because it's given up some of its moisture. Removing this water in the kilns means the oak has done the vast majority of any movement before you work with it, so if you plane kiln dried oak perfectly straight, it will stay that way so long as it's not exposed to very humid or outside conditions.
​
The thickest boards we stock in kiln dried oak are 100mm. Any thicker and the oak won't dry all the way through, no matter how long you kiln it for. Kiln dying also has the benefit of sterilising the oak, eliminating any potential threat of worm.
If you're looking for a straight-forward solution to a top-of-the-range, hand-crafted solid oak gazebo then look no further. Your gazebo will arrive in kit form ready to be assembled by your builder.
Each one is handmade and completely bespoke, so can be made any size or shape:
• Square Oak Gazebos (common example sizes 3, 4 or 5m square)
• Rectangular Oak Gazebos (common example sizes 3x4m, 3x5m, 4x6m)
• Round Oak Gazebos (common example sizes 4m, 5m, 6m diameter)
• Hexagonal Oak Gazebos (common example sizes 4m, 5m, 6m diameter)
You have the option of 150, 175 or 200mm posts to keep it looking proportioned depending on the overall size.
The main structure of your oak gazebo will be held tightly together with pegged, traditionally crafted mortice and tenon joints. The bird-mouthed rafters simply screw into place. Each component is made from high quality, fresh sawn oak, planed for a smooth finish ready to be treated. We can also provide cedar shingles for the roof, or the gazebos are easily strong enough to take traditional slates.
Handmade, completely bespoke Oak Pergolas delivered to you in kit form.
​
As each is custom made, they can be any length and width, even different lengths all round to fit unusual footprints. Common post and plate section sizes include 150, 175 and 200mm and there are a choice of 4 different end shapes for the cross members.
​
The main frame is held together with traditionally hand-crafted, pegged mortice and tenon joints and the cross members are held with screws. Each part is coded for extremely straight forward assembly.
Each piece of oak is planed for a smooth finish and they take staining very well. They can be left to go the classic silver-grey oak colour, or the fresh colour can be prolonged with the use of an OSMO UV protection oil.
Staddle stones can be provided for the posts to sit on. They are around 9 inches high and made from reconstituted stone with a bar in the top for the posts to be drilled and rested on.
Each of our porches are handmade and completely bespoke, so they can be any shape or size to suit you. We have some standard designs, shown below, that can be made to any size, or can make unique porches if you have your own plans. Each part of the main frame is made from planed oak and held with pegged mortice and tenon joints. The porches can be made to rest on existing walls or can have posts to the ground.​​
As our oak garages are completely handmade, we can build them with as many bays as you like, as long and as wide as you have room for. They are made from high quality European oak, giving unparalleled strength and a traditional, stylish look.
The garages can be open inside, or partitioned, you can have a roof room with external staircase or log stores at each end. The roof can be gabled, hipped, or 'cat slide' style and we can provide Cedar Shingles or feel free to fit your own tiles to match your house. We can also provide you with solid oak garage doors and personnel doors.
The garages are provided as a kit with the main posts, sole and wall plates held with oak pegged, traditionally hand-crafted mortice and tenon joints. Every part is labelled and matches an assembly drawing so your builder can easily see how every part fits together. Get in touch for more information and a customised quote.
We make a range of popular Barbecue and Picnic tables. Standard sizes include 5 foot and 8 foot but we can make any size you like. They are hard wearing, heavy duty and made to exacting standards for maximum lifespan, even in high traffic public areas. You will find the workmanship is second to none. Call to see if we have any complete to come and take a look for yourself.
To order bespoke timber products give us a call today on 01366 728206.
We can also be reached via the form below.
Our Products: Price Quote